---
EVERY LITTLE BIT HELPS BIG!
Camp Cedarcrest is a 501(c)3 non-profit organization that does not employ a paid staff. All of our members are part time and volunteer.

We keep in operation by rental fees and generous donations of both time and money. Donations of goods and services, especially elbow grease, are always appreciated. If you are interested in making a donation or being part of a work project please contact us.

Many organizations that visit the camp each year service the underprivileged and needy. Your rental fees and donations help them more than you will ever know. All donations are tax deductible.
---
Looking For An Eagle Scout Project?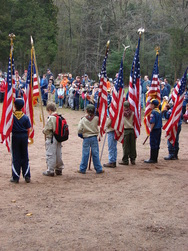 One of the most important ways we are able to improve the camp is through the many Eagle Scout projects that have been completed over the years at Camp Cedarcrest.

We have a variety of projects across many interests to suit your needs. We are very flexible and have a list of project as well as being open to suggestions. For more information please contact the camp office.
---